Voor sommige links naar producten en partners op deze website krijgen wij een affiliate commissie.
Etihad Airways heeft tickets voor over de hele wereld in de aanbieding. Ook vanaf Amsterdam of Düsseldorf. Dit geldt voor economy- en businessclass tickets. De reisperiode moet tussen 9 mei 2016 en 27 februari 2017 liggen. Handig om de trip die je altijd al eens had willen maken nu vast te leggen tijdens deze sale!
De volgende tickets zijn o.a. te boeken vanaf Amsterdam:
Een random search (vanaf mei 2016) op ITA Matrix levert het volgende resultaat op: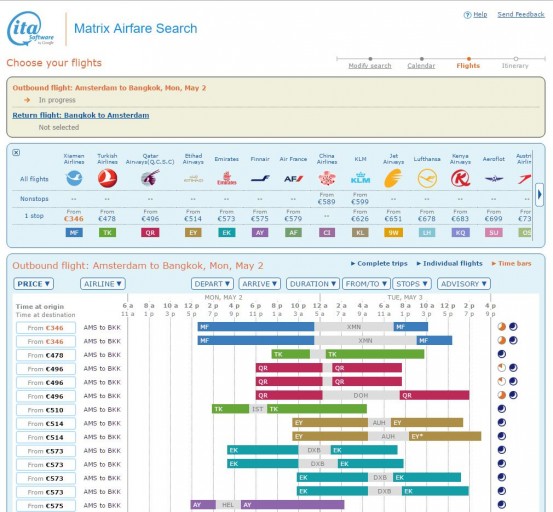 Oordeel zelf. Het is mogelijk om voor dezelfde prijs met een andere airline te vliegen of om nog veel goedkoper naar bijvoorbeeld Bangkok te vliegen met Xiamen Airlines in deze periode. Het is ook zeker de moeite waard om te kijken naar tickets met vertrek vanaf Düsseldorf voor Etihad Airways. Een reis naar Bangkok scheelt nog eens 60 euro én je kunt met de 787 Dreamliner vliegen:
Ook de businessclass tickets zijn in de aanbieding. Vanaf €1.699,- is het mogelijk om naar Bangkok te vliegen vanaf Amsterdam. Persoonlijk zou ik ervoor kiezen om vanaf Düsseldorf te vliegen met de 787 Dreamliner. Zie onderstaande video voor een impressie van de Etihad Airways Business Studio aan boord van de A380 en B787.
Conclusie
Het is een goede aanbieding met een ruime reisperiode van Etihad Airways. Voor liefhebbers van deze airline het juiste moment om je ticket te boeken. Maar zoals een snelle zoekopdracht al liet zien kan je voor hetzelfde geld of zelfs minder naar Bangkok met andere airlines.