Voor sommige links naar producten en partners op deze website krijgen wij een affiliate commissie.
Tot en met 1 april kan je 60 tot 80% bonus krijgen als je HHonors punten aanschaft. Hierbij geldt een minimum van 5000 punten voordat de bonus erbij komt. Deze actie is targeted. Hoeveel bonus je krijgt kan je zien als je inlogt op de HHonors site en naar 'buy points' gaat (klik).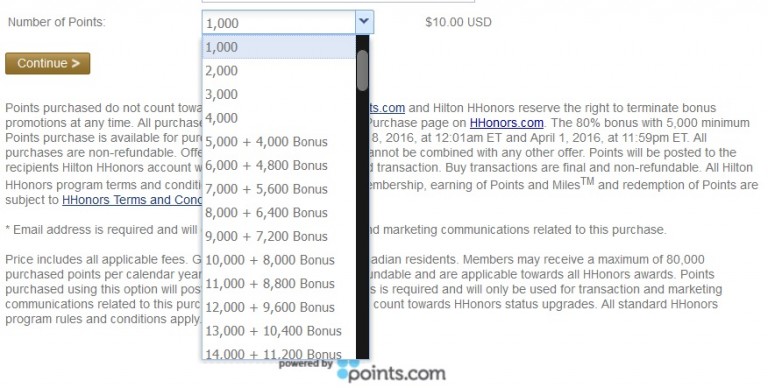 Normaal kosten HHonors punten $10 per 1000 punten, oftewel 1 dollarcent per stuk. Als je in aanmerking komt voor de 80% bonus daalt dit naar 0,56 cent per punt. Dit kan een goede deal zijn, als je weet waar je je punten aan uitgeeft. Ben je van plan een heel goedkoop of duur verblijf te boeken, vergelijk de cashprijs (rekening houdend met speciale rates! zoals de HHonors leden korting ) dan met de prijs die je voor het equivalent in punten zou betalen. HHonors punten besteedt je het best aan lage en hoge categorie hotels, niet aan de middenmoot. Ook kan je kijken naar de beschikbaarheid van Points&Money awards die met deze actie wellicht aantrekkelijker zijn dan de cash tarieven.
Awards bij HHonors merken zijn er al vanaf 5000 punten per nacht voor een Categorie 1 hotel. Tijdens deze actie zou je voor $60 genoeg punten hebben voor twee overnachtingen in die klasse! Zelf heb ik hier van gebruik gemaakt door een Hilton Garden Inn te boeken in Azië. Omgerekend betaal ik maar €26 per nacht!
Vergelijk dus even de cash, punten en Points&Money tarieven voor jouw verblijf en kijk wat het voordeligst is. Houd bij awards ook rekening met de punten die je eventueel verliest door geen cash te betalen. Mocht je HHonors punten kopen dan moeten ze binnen 24 uur in je account gestort zijn. In de praktijk is dit vrijwel direct, als je even in- en uitlogt.
De volledige voorwaarden:
Points purchased do not count towards elite tier qualification. Points.com and Hilton HHonors reserve the right to terminate bonus promotions at any time. All purchases must be made through the Purchase page on HHonors.com. The 80% bonus with 5,000 minimum Points purchase is available for purchases made between March 18, 2016, at 12:01am ET and April 1, 2016, at 11:59pm ET. All purchases are non-refundable. Offer is subject to change. Offer cannot be combined with any other offer. Points will be posted to the recipients Hilton HHonors account within 24 hours of the completed transaction. Buy transactions are final and non-refundable. All Hilton HHonors program terms and conditions apply. Hilton HHonorsTM membership, earning of Points and MilesTM and redemption of Points are subject to HHonors Terms and Conditions.
* Email address is required and will only be used for transaction and marketing communications related to this purchase.
Price includes all applicable fees. GST/HST will be charged to Canadian residents. Members may receive a maximum of 80,000 purchased points per calendar year. Purchased points are not refundable and are applicable towards all HHonors awards. Points purchased using this option will post within 24 hours. Email address is required and will only be used for transaction and marketing communications related to this purchase. Purchased points do not count towards HHonors status upgrades. All standard HHonors program rules and conditions apply