Voor sommige links naar producten en partners op deze website krijgen wij een affiliate commissie.
Hyatt heeft eindelijk weer een nieuwe promotie gelanceerd. Deze keer een waarbij per nacht 1.000 punten te verdienen zijn voor deelnemers in het World of Hyatt spaarprogramma. De promotie is geldig voor nachten tussen 15 februari 2018 en 15 mei 2018. Aanmelden kan via de volgende link (klik).
Voorwaarden
Aanmelden is noodzakelijk voor deelname aan deze promotie. Wel moet je lid zijn van het World of Hyatt spaarprogramma, echter deelname hieraan is gratis.
Voor iedere nacht tijdens de promotieperiode verdien je of 1.000 of 500 punten met een maximum aantal van 25.000 punten. Hoeveel punten je per nacht krijgt is afhankelijk van het type Hyatt hotel waarin je verblijft. Hyatt heeft hotels in diverse categorieën. Alleen bij de goedkopere Hyatt Place and Hyatt House hotels krijg je 500 punten per nacht. Bij alle andere hotels is dat 1.000 punten per nacht.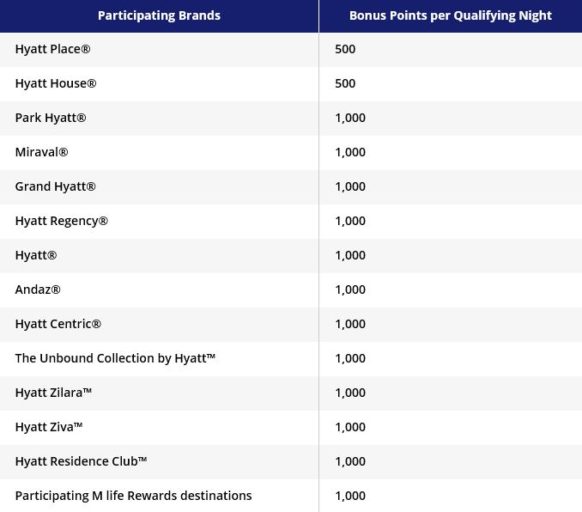 Het goede nieuws is dat de punten per nacht te verdienen zijn, en niet per verblijf. Ook is het mogelijk om de punten te verdienen indien het verblijf via een "free night award" wordt geboekt. De "free night awards" zijn certificaten die deelnemers in het World of Hyatt spaarprogramma kunnen verdienen na 30/60 verblijven per jaar of indien er in 5 verschillende Hyatt hotels is overnacht.
Let op: de punten worden alleen bijgeschreven indien wordt geboekt via www.hyatt.com.
Ondanks dat Hyatt in Europa een relatief beperkt aantal hotels heeft zijn er inmiddels 3 Hyatt hotels in Nederland. Allemaal hotels in de regio Amsterdam. Het Hyatt Place hotel in Hoofddorp, Het Andaz hotel in Amsterdam en het in 2017 geopende Hyatt Regency Amsterdam. Mogelijk komt er op termijn nog een 4e hotel elders in Nederland.
Hieronder tref je de exacte voorwaarden aan van deze promotie:
You must be a World of Hyatt member and register for the promotion between February 15, 2018 and March 31, 2018. Register at worldofhyatt.com/morepoints or by calling your nearest Global Contact Center. To join, visit World of Hyatt today.  All eligible nights under this promotion must have a checkout date from February 15, 2018 through May 15, 2018 ("Promotion Period"). You will receive 1,000 Bonus Points for each eligible night at Park Hyatt, Miraval, Andaz, Grand Hyatt, Hyatt Centric, Hyatt Regency, The Unbound Collection by Hyatt, Hyatt Zilara, Hyatt Ziva, Hyatt Residence Club and participating MGM properties. And 500 Bonus Points for each eligible night at Hyatt Place and Hyatt House properties during the Promotion Period.
A maximum of 25,000 Bonus Points may be earned per member under this promotion, regardless of the number of nights completed during the Promotion Period. All points awarded under this promotion are Bonus Points. For the purpose of this promotion, an "Eligible Night" is defined as any night where a member is paying an Eligible Rate or redeems a free night award for at least one night of their stay. Nights at Oasis Collection properties are not Eligible Nights. Only the room occupied by the Member will count toward this promotion. You must provide your World of Hyatt membership number at the time of check-in and choose World of Hyatt points for each stay. World of Hyatt will automatically track Eligible Nights when you provide your World of Hyatt membership number at check-in. Please allow two to three weeks after your qualifying stay for Bonus Points to be posted to your World of Hyatt account. Hyatt reserves the right to alter or withdraw this promotion with a suitable substitute promotion of equal value (if legally required) at any time due to actual circumstances.
This promotion is subject to the terms and conditions of the World of Hyatt program available at worldofhyatt.com/terms. Hyatt®, Hyatt Hotels & Resorts®, Park Hyatt®, Miraval®, Andaz®, Grand Hyatt®, Hyatt Centric®, Hyatt Regency®, The Unbound Collection by Hyatt™, Hyatt Place®, Hyatt House®, Hyatt Zilara™, Hyatt Ziva™, World of Hyatt®, Hyatt Residence Club™, and related marks are trademarks of Hyatt Corporation or its affiliates. © 2018 Hyatt Corporation. All rights reserved.