Voor sommige links naar producten en partners op deze website krijgen wij een affiliate commissie.
Gedurende de afgelopen maanden schreven we een aantal keer over promoties waarbij je goedkoop Avios kon aanschaffen. Deze keer betreft het een promo van British Airways zelf. Je kan Avios kopen met een korting van 50 % via de website van BA.

Goedkope Avios
Deze actie loopt vanaf 13 tot en met 17 november 2017 en je kan tot 200.000 punten aankopen of aan iemand kado doen. Het maakt niet uit hoeveel Avios je koopt, je krijgt altijd de helft kado. In de praktijk ziet dat er als volgt uit: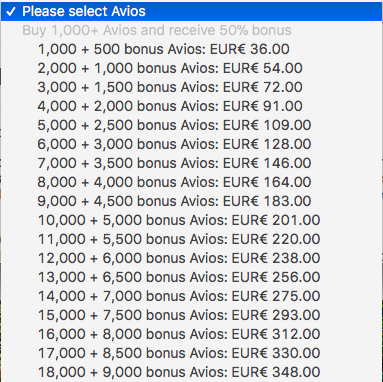 Indien je écht niet weet wat te doen met je geld, dan wil je misschien wel 3601 euro uitgeven voor 200.000 Avios? Dat lijkt me van het goede teveel. Deze actie lijkt me enkel interessant indien je nog een klein aantal punten nodig hebt om een bepaalde award te boeken bij BA of een andere OneWorld partner airline. Bij British Ariways mag je per jaar maximaal 200.000 punten aankopen of als gift ontvangen.
Om deze "award mijlen" aan te schaffen dien je lid te zijn van het British Airways Executive Club loyalty programma. Als dat het geval is dan kan je via deze link (klik) inloggen en vervolgens de aankoop verrichten.
Hebben jullie wel eens gebruikt gemaakt voor een soortgelijke promo of zijn jullie van plan om punten aan te schaffen?