Voor sommige links naar producten en partners op deze website krijgen wij een affiliate commissie.
KLM biedt de mogelijkheid aan overstappende passagiers om de omgeving van Amsterdam te ervaren door een local. Om dit te kunnen aanbieden heeft KLM de Layover With A Local app uitgebracht, die je kunt downloaden vanaf half maart. Deze service kun je gebruiken als je opstapt in Amerika, Canada of Italie tussen 22 maart en 31 mei 2016, waarbij je een layover hebt van tenminste zes uur. Je kunt je inschrijven bij KLM via deze link als zowel een local als overstappende passagier.
KLM Layover With A Local
Op basis van je aanmelding wordt je gekoppeld door middel van je sociale profiel aan een local in Amsterdam. Bij het koppelen zal rekening worden gehouden met je interesses en je taalvoorkeur. KLM biedt een gratis NS retourticket aan van Schiphol naar Amsterdam Centraal. Op Amsterdam Centraal zal de local wachten op je. In theorie kun je, indien je opstapt in Amerika, Canada of Italië, een ticket boeken naar Antwerpen/Düsseldorf om ook gebruik te kunnen maken van deze app.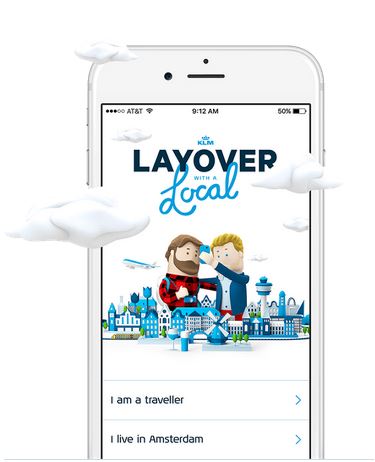 Wil je meer weten over de KLM Layover With A Local app? Dan kun je op deze site terecht voor de FAQ en een instructiefilmpje.  Tevens ben je welkom op het Insideflyer.nl forum voor al je vragen! Ga jij gebruik maken van deze app?