Voor sommige links naar producten en partners op deze website krijgen wij een affiliate commissie.
Starwood heeft een nieuwe promotie aangekondigd voor 2016, de Take Two promotie. Van 11 januari tot en met 30 april kun je het dubbele aantal Starpoints verdienen bij verblijven van 2 nachten of meer, en 250 Starpoints bij verblijven in populaire bestemmingen als Rio, Hong Kong en New York. Deze bonus geldt ook bij verblijven van 1 nacht.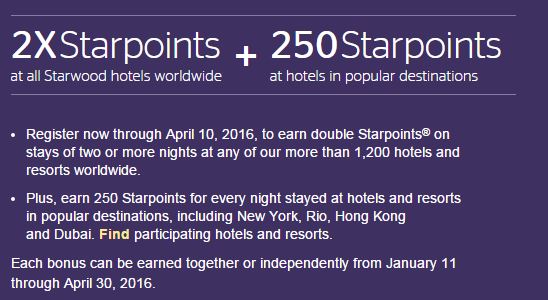 Starwood Take Two
Om van deze promotie gebruik te maken moet je je eerst registeren met je SPG nummer en e-mail adres. Het registeren voor deze promotie kun je hier doen.
De populaire bestemmingen voor de 250 Starpoints bonus kun je hier vinden. Deze hotels bevinden zich in Brazilie, China, Egypte, Duitsland, Hong Kong, Japan, Macau, Maladiven, Peru, Singapore, Spanje, Turkije, Verenigde Arabische Emiraten, Verenigde Staten en Puerto Rico. Let er wel op dat niet alle hotels in de hiervoor genoemde bestemmingen meedoen aan deze actie.
De Terms & Conditions die bij deze actie horen kun je via deze link vinden. Zoals bij elke SPG promotie is hier ook een FAQ voor opgesteld. Hier vind je de antwoorden op de meest gestelde vragen omtrent deze actie.
Ga jij gebruik maken van deze Starwood promotie? Laat het hieronder of op ons forum weten!