Voor sommige links naar producten en partners op deze website krijgen wij een affiliate commissie.
Accelerate is (opnieuw) de naam van de IHG promotie voor het 1e kwartaal van 2017. De registratie is open sinds vrijdag 9 december 2016. En registeren kan via deze link. Het verblijf moet plaatsvinden in de periode van 1 januari 2017 tot 15 april 2017. Het minimum aantal bonuspunten is 30.000. Let op: alleen boekingen die worden gemaakt na registratie komen in aanmerking voor de extra punten van deze promotie.
Bestaande boekingen bij IHG tellen dus niet mee. Optie is om dat geval de bestaande boeking(en) te annuleren en opnieuw te boeken.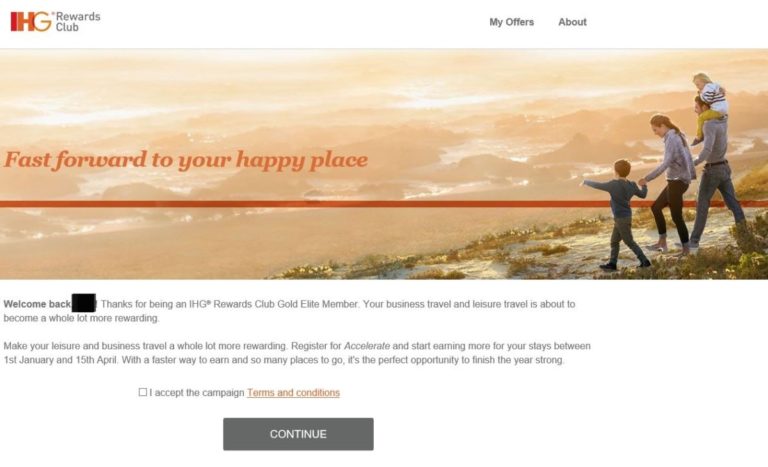 Persoonlijk aanbod
Leden van de IHG Rewards Club krijgen na registratie een persoonlijk aanbod te zien. Hieronder mijn persoonlijke aanbod voor 41.000 punten. De opdrachten zijn wel haalbaar, maar IHG is niet mijn 1e keus als ik een hotelovernachting ga boeken. Desalniettemin kan het geen kwaad om voor dergelijke promoties te registreren.
Wat is jullie persoonlijke aanbod?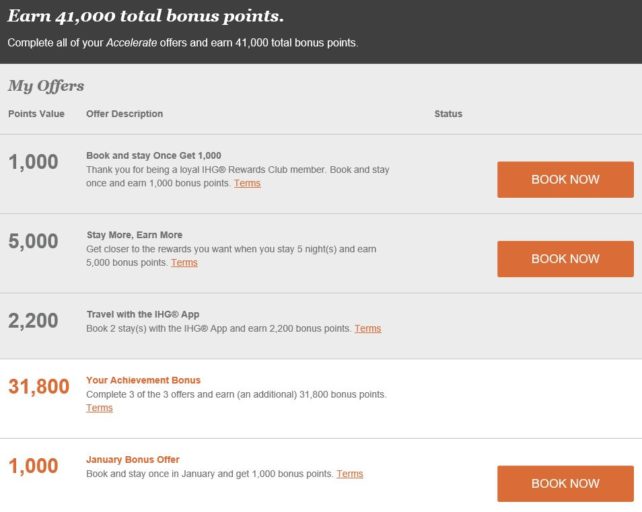 Algemene voorwaarden
You must be an IHG® Rewards Club member and must register your member number in advance to participate in "Accelerate" ("Promotion"). Upon Registration (as defined below), members will be presented with the opportunity to earn at least 30,000 bonus points upon completion of all offers presented. Members will be awarded bonus points listed for each individual Promotional offer ("Offer") after completing the requirements of each individual Offer.
Each Offer must be completed between 1st January 2017 and 15th April 2017(both dates inclusive) ("Registration"). The bonus points earned through individual Offers can be used for redemption opportunities towards Reward Nights, merchandise and other redemption opportunities. See individual Offers for the specific terms and conditions per Offer type. A Stay is defined as per IHG® Rewards Club Membership Terms and Conditions as one night or consecutive nights at the same hotel, regardless of frequency of check-in/out ("Stay"). A Stay constitutes a "Qualifying Stay" when member pays qualifying rates, which include most business and leisure rates at InterContinental® , Crowne Plaza® , Hotel Indigo® , Holiday Inn® , Holiday Inn Express® , Staybridge Suites® , Candlewood Suites® , EVEN® or HUALUXE™ hotels worldwide.
Bonus points are not issued for Non-Qualifying Room Rates or Non-Qualifying Stays. "Non-Qualifying Room Rates" or "Non-Qualifying Stay" include the following: any stay at a Kimpton Hotel, net wholesale individual and group rate, certain package rates, employee discount rate, friends and family rate, crew rate, special discounted contract rates, seasonal worker/crew rate, 50% travel club discount rate, travel industry discount rate, distressed passenger rate, IHG® Rewards Club Reward Nights/Airline Hotel Reward rate, rates booked through third party web sites, complimentary hotel Stays and any other rates not defined as a Qualifying Room Rate at IHG's sole discretion.
Only one room per member per Qualifying Stay will be awarded the applicable bonus points, or other benefits (if any) available under the applicable Offer. If more than one member checks into the same room, only one member is eligible for the applicable bonus points, or other benefits (if any) available under the applicable Offer. Each Promotion Offer of bonus points is available only once to each member. IHG® Rewards Club Members with a miles earning preference will earn Points. No retroactive bonus points will be awarded for stays prior to Registration. Except as otherwise stated in the terms and conditions, please allow up to 2 to 3 weeks for Promotion Offer bonus points to be credited after checkout.
This Promotion is subject to standard IHG® Rewards Club Membership Terms and Conditions and earning structure, which can be obtained by visiting www.ihgrewardsclub.com. This exclusive Promotion is valid and applies to the original recipient only. The use of certain rates may be subject to applicable agreement(s). Any misuse of such rates is considered a fraudulent activity subject to IHG® Rewards Club Membership terms and conditions.
IHG reserves the right to remove a member's bonus points or cancel a member's account if fraudulent use of the Promotion is detected. To the extent permitted by applicable law, IHG® Rewards Club reserves the right to cancel, suspend and/or modify the Promotion/Offer at any time with or without notice. To the extent permitted by applicable law, IHG reserves the right of final interpretation of this Offer. Members must make any promotional inquiries by 60 days from the end of the campaign promotional period.